In 1983, Paul Greening, local community member, chaired the "First Annual Marklund Home Invitational Golf Tournament" held at Itasca County Club. There were 42 golfers and the event broke even.
In 1984, the event was co-sponsored by the Addison Kiwanis Club, and was officially renamed the "Stan Haverkampf Memorial Golf Outing," named after our co-founder who passed away in 1977.
NFL Hall-of-Famer Gale Sayers began hosting the golf outing in 1988, and in 1990 Marklund founder Claire Haverkampf agreed to rename the event "The Gale-Sayers Marklund Golf Tournament." White Sox legend Minnie Minoso was in attendance.
Since then, many former professional athletes have supported the Marklund golf outing including Bob Love of the Chicago Bulls, Dan Hampton, Emery Moorehead and Bob Avellini of the Chicago Bears, Billy Williams, Randy Hundley and Rich Nye of the Chicago Cubs, Stan Mikita of the Chicago Blackhawk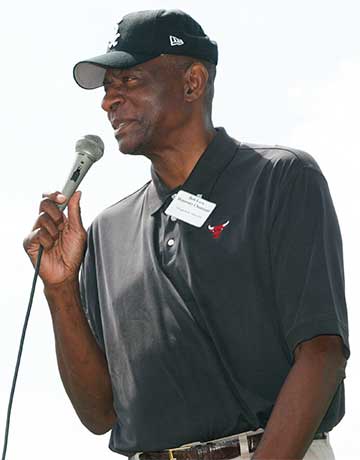 s, and Jack Perconte and Eric Soderholm of the Chicago White Sox, to name a few.
Last year, the 33rd Annual Marklund Golf Classic was host to golfers and non-golfers alike, as well as celebrity golfers, who come together to support this great cause. An evening dinner banquet helped celebrate the day's activities, with live and silent auctions, raffles, and prizes to help net approximately $190,000 for programs and services for children and adults with profound disabilities and special healthcare needs.