What is Show Your Marklund Purple Day?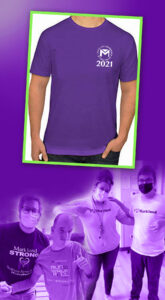 Simply put, it's 16 Days of Leadership giving for Marklund with a big celebration on July 30!
More specifically, we are inviting anyone who loves Marklund to join our Leadership Giving Circle during these special giving days by making a leadership level gift of $1,000 or more to ensure everyday life is made possible for individuals with profound disabilities.  To do this, we need you!
When is it?
Join Marklund's Leadership Giving Circle by making a gift of $1,000 or more from July 1-16.
We'll celebrate all of our new members on July 30th  with SWAG and lots of fun posts throughout the day!
Why Join Now?
By making a gift of $1,000+ from July 1-16, you will not only be a part of this distinguished group of donors who ensure the future for Marklund, but this year, your membership will also come with a commemorative T-shirt, Marklund mug, and a special invitation to the exclusive 10th Annual Leadership Giving Reception on September 9.