It's one moment this holiday season that will shape the year ahead for so many people at Marklund!
This time of year, we find ourselves reflecting on our lives, and all of the moments that have shaped our journey.   Back in 1997, Carie Carney and Greg Keller accepted a friend's invitation to Marklund's Top Hat Ball. This moment sparked a professional connection that would impact their lives in a very personal way.  In 2004, Carie's company was selected to build the final two residential homes at the Marklund Hyde Center in Geneva, including our Dreher home. She had no way of knowing her daughter would call it home sixteen years later.
Greg and Carie's daughter Cassidy was severely delayed from the age of two. By the time Cassidy reached her teenage years she suffered from seizures, severe hypotonia and was fed through a g-tube. Carie and Greg cared for Cassidy and had always planned to care for her at home. Balancing two careers, the care of their two children, all while getting very little sleep each night, left no time to consider and plan for the future.
In 2020, Carie was quarantined with COVID – reality came into focus. For the first time, they were forced to consider the difficult question – who would care for Cassidy when they weren't physically able?  All paths led back to that one moment in 1997 – the moment they learned about Marklund. Now, 23 years later – they found themselves sending an email requesting residential care for their own child. Quickly they learned a spot was available for Cassidy at Marklund's Dreher home. It was hard to deny this full-circle and powerful moment – and its life-changing impact.
Knowing the power each moment can have, we ask that you take this moment to support Marklund. In a minute's time, you will ensure that resources are available for families like Carie and Greg's. Your gift provides the individualized care Cassidy receives from Marklund staff, educational opportunities to challenge her to accomplish new things every day, and community connection.
Thank you for making everyday life possible for the children and adults living and learning at Marklund.
If you need any assistance with the online gift form, please contact Taylor Egan, Annual Fund Manager, at (630)593.5482 or tegan@marklund.org.
What is the Marklund Annual Fund?
The Marklund Annual Fund supports the mission of making everyday life possible for individuals with profound disabilities. While Marklund depends on the dollars received from the State of Illinois, a significant financial gap remains to provide every infant, child, teen and adult with "The Marklund Standard of Care".  That's where YOU come in! Each contribution helps close the financial gap of approximately $20,268 per resident that is not covered by State of Illinois reimbursements.
Marklund appreciates you! Our organization is built on the support and dedication of all staff, friends and donors. Thank you for being part of the Marklund family!
How can YOU  help close the gap?
Make a one-time donation by completing the information below.
Sign up to make a monthly donation (CLICK HERE for more information on the Monthly Giving Program)
Close the gap for one Marklund client and donate $20,268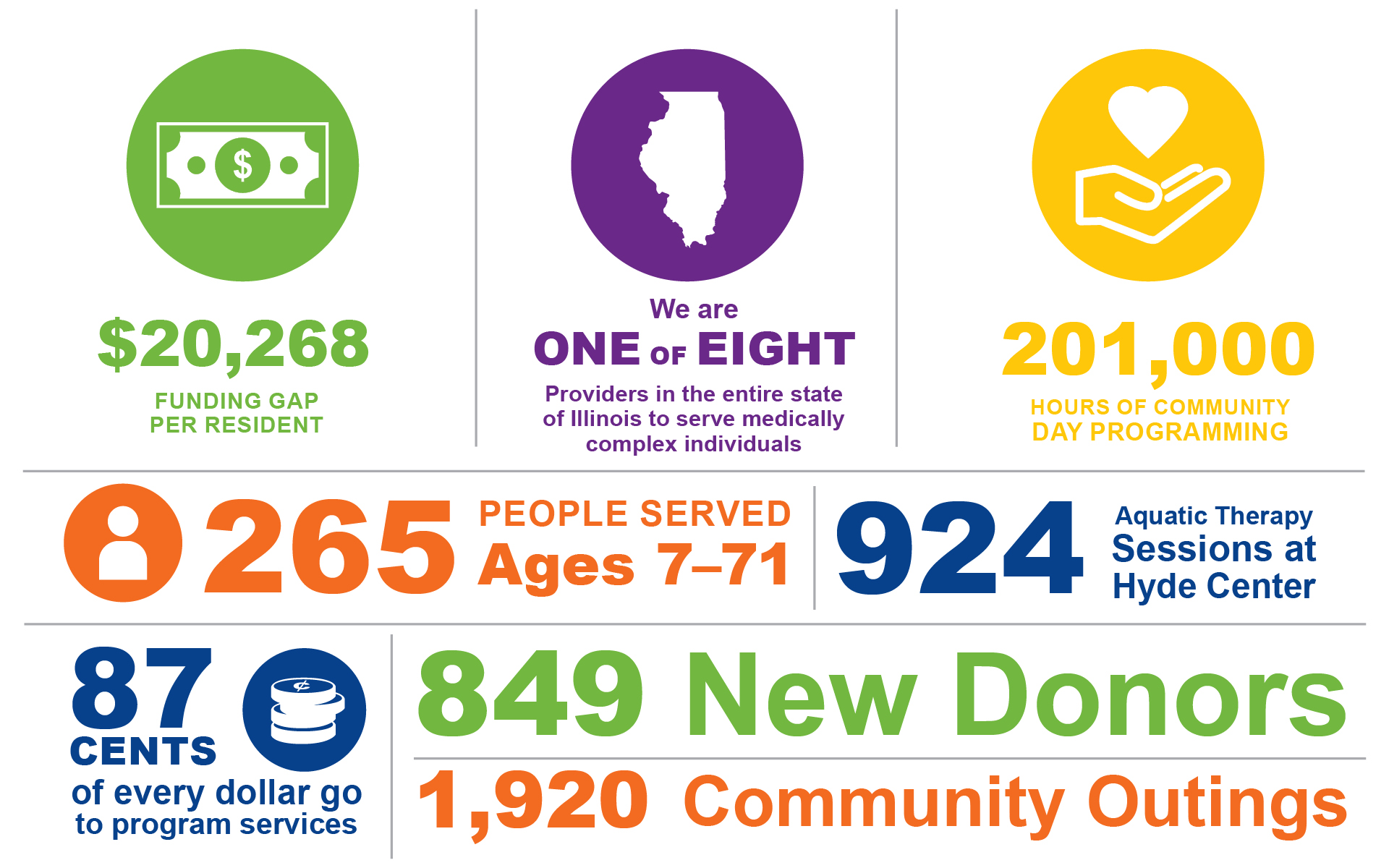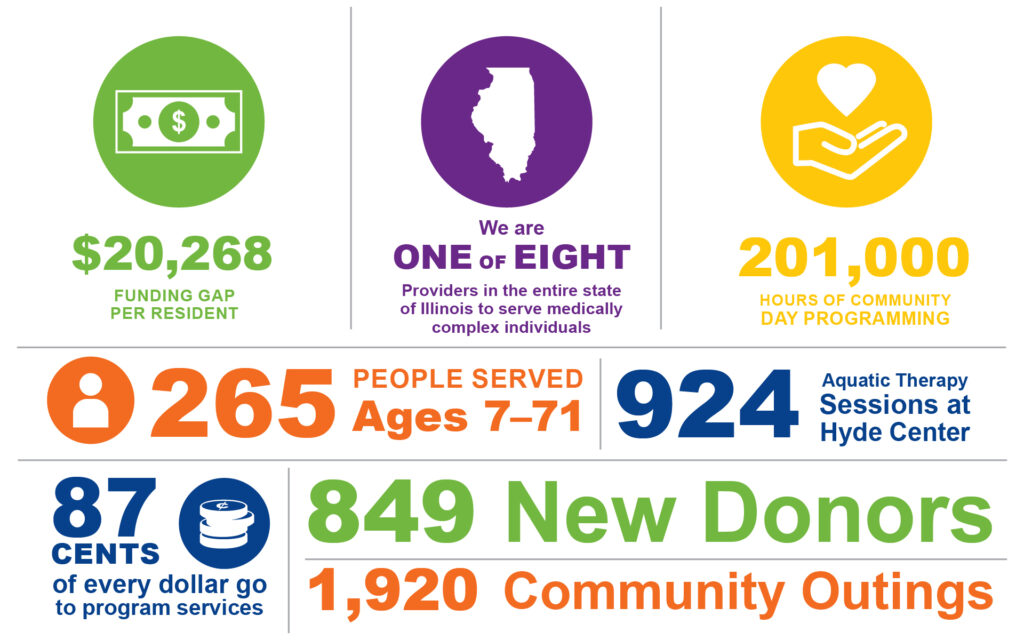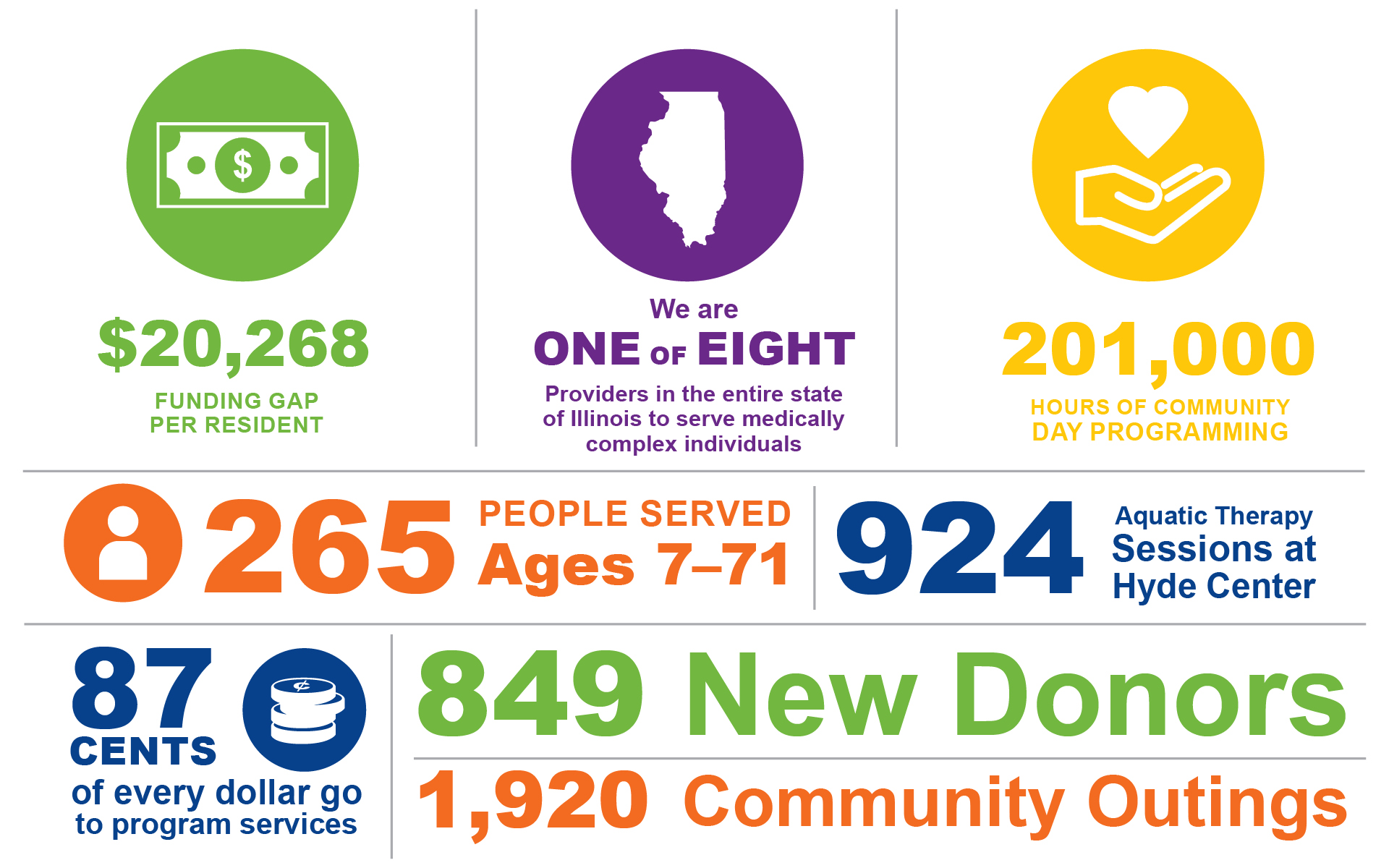 Giving Programs
• Leadership Giving Circle: Become a member by contributing $1,000 or more in cumulative annual giving to Marklund.
• Monthly Giving Program: Recurring monthly donors continue to make everyday life possible – Every. Day.  Become an Everyday Supporter by starting your monthly donation today.
• The Marklund Always Society: Secure the future of Marklund now and always through meaningful estate and legacy gift opportunities.
FAQs
How do I make my gift?
The quickest way is to make a gift securely online. If you are giving by mail, please be sure to write the check out to "Marklund" and mail to 1S450 Wyatt Drive, Geneva, IL, 60134.
What is a Matching Gift?
Corporate Matching Gifts are offered by some employers – you may be able to double or even triple your gift to Marklund! Contact your Human Resources office
to see if your employer matches gifts.
Will my gift be eligible for tax deduction?
Yes. Official receipts of acknowledgement will be issued.
What does my gift fund?
Gifts to Marklund support the Marklund Annual Fund. These unrestricted dollars allow Marklund to meet the organization's most current and/or urgent needs and are critical to maintaining the exceptional care and programs Marklund is able to provide each and every day. The annual short-fall is $20,268 per resident, per year – Marklund serves 178 residents annually.
Can I designate my gift to a specific program at Marklund?
You can designate your gift to a specific program or general operations at Marklund Philip Center in Bloomingdale, IL, Marklund Wasmond Center in Elgin, IL, or Marklund Hyde Center in Geneva, IL.
How can you start your recurring monthly donation?
Visit our Monthly Giving Page. We will automatically charge your card on the date you select – the 1st or the 15th of each month.
What are the different ways to give to Marklund?
Click here for more information Ways to Give.