The garden teaches patience – encouraging a slower pace and an awareness of nature's gifts. Colors seem brighter, when the scents and sounds of summer instantly awaken! Brittany Maertzig, longtime Recreational Therapist at Marklund, sees the intrinsic effects of these grand teachings every year.  In May, residents visit the local garden center and make their selections of flowers, herbs and vegetables to plant in the Marklund Wasmond Center courtyard. "From beginning to end the residents are a part of each step. Learning about and holding the tools used, feeling the soil with their fingers, touching and smelling each plant as it goes in the ground. It is truly the whole sensory experience."
Their garden becomes a part of their everyday life. Scavenger hunts with friends, picnics, time with family members, and even the enjoyment of a homemade salsa… these everyday life experiences are not taken for granted here at Marklund!  We truly take time to "smell the flowers" and enjoy those moments.
To make these everyday opportunities possible, we need your support. Just as seeds are dependent on sunlight and water, we depend on your gifts to provide these everyday life moments and activities. You give our residents independence, opportunity and choice.
Thank you for making everyday life possible for the children and adults living and learning at Marklund.
If you need any assistance with the online gift form, please contact Taylor Egan, Annual Fund Manager, at (630) 397.5482 or tegan@marklund.org.
What is the Marklund Annual Fund?
The Marklund Annual Fund supports the mission of making everyday life possible for individuals with profound disabilities. While Marklund depends on the dollars received from the State of Illinois, a significant financial gap remains to provide every infant, child, teen and adult with "The Marklund Standard of Care".  That's where YOU come in! Each contribution helps close the financial gap of approximately $15,290 per resident that is not covered by State of Illinois reimbursements.
Marklund appreciates you! Our organization is built on the support and dedication of all staff, friends and donors. Thank you for being part of the Marklund family!
How can YOU  help close the gap?
Make a one-time donation by completing the information below.
Sign up to make a monthly donation (CLICK HERE for more information on the Monthly Giving Program)
Close the gap for one Marklund client and donate $15,290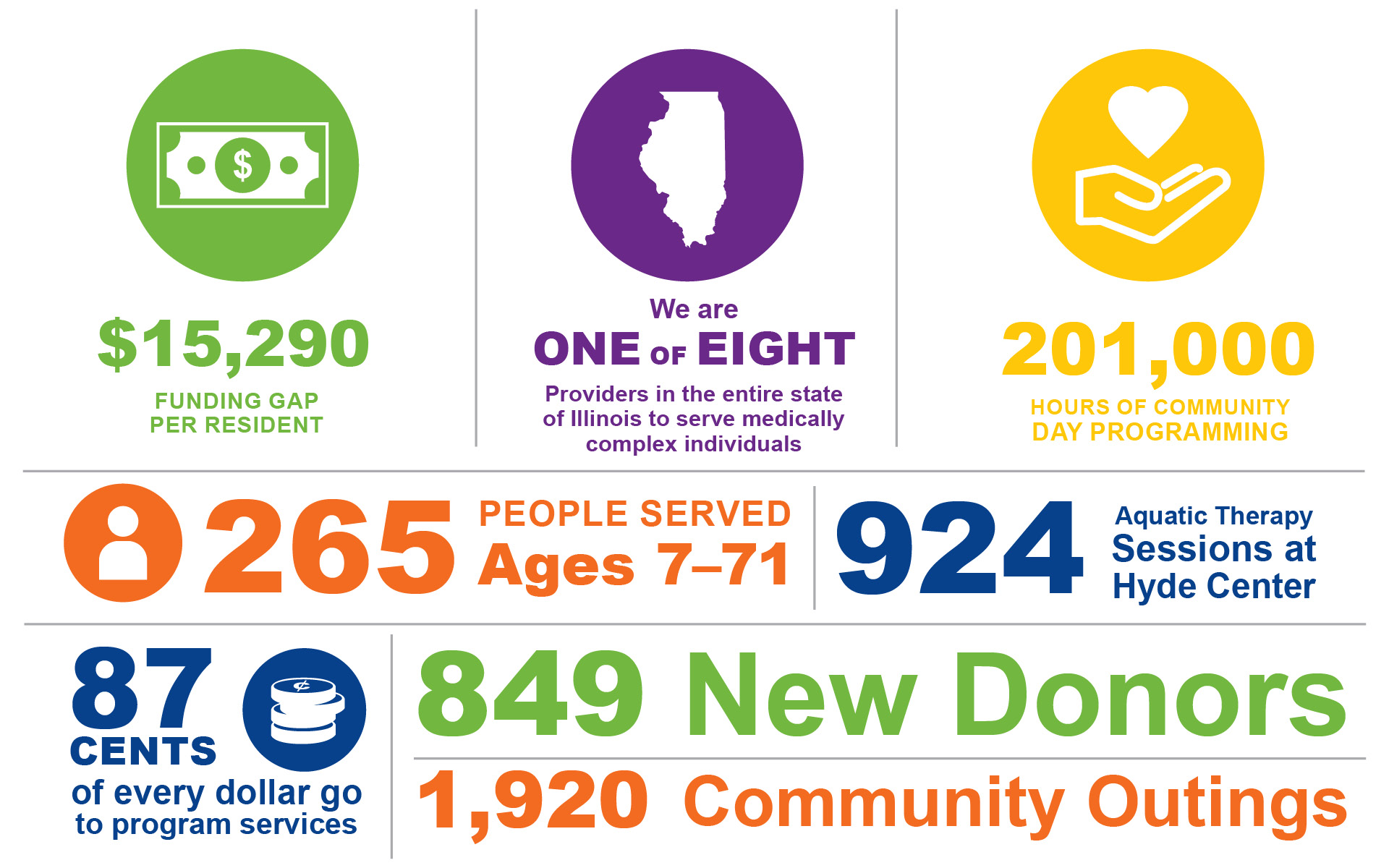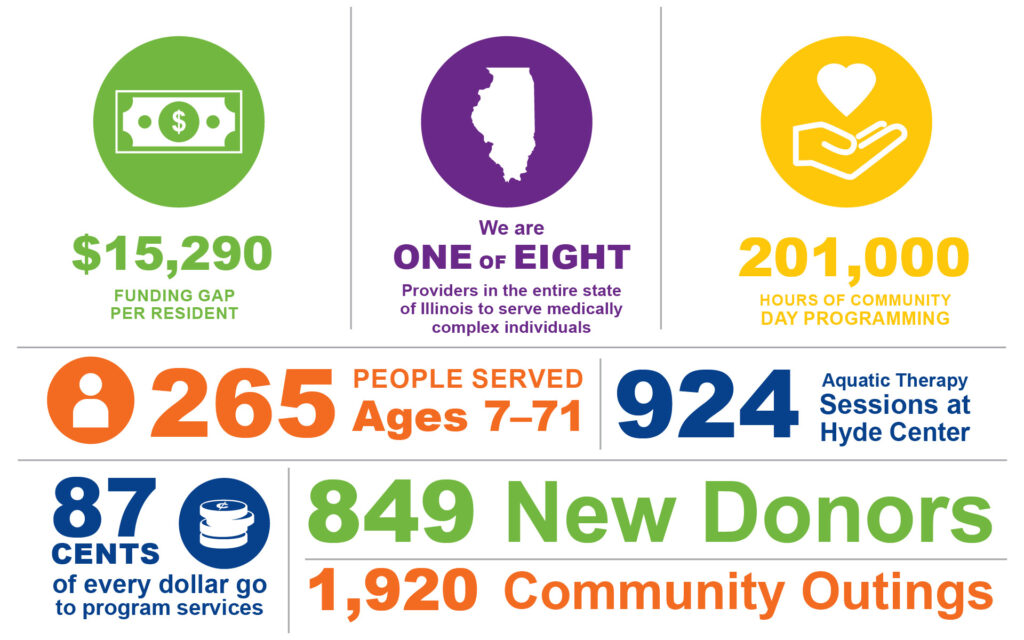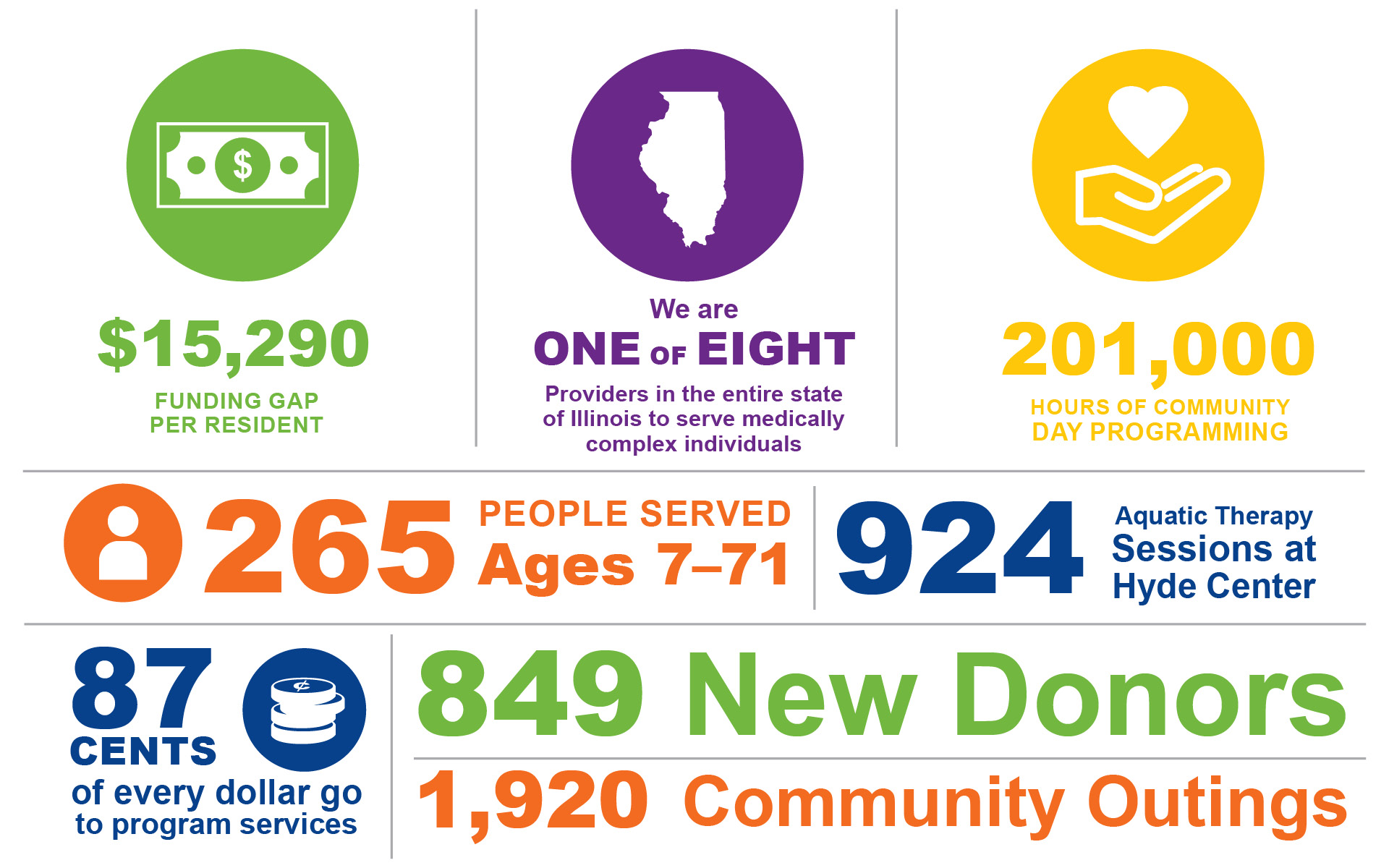 Giving Programs
• Leadership Giving Circle: Become a member by contributing $1,000 or more in cumulative annual giving to Marklund.
• Monthly Giving Program: Recurring monthly donors continue to make everyday life possible – Every. Day.  Become an Everyday Supporter by starting your monthly donation today.
• The Marklund Always Society: Secure the future of Marklund now and always through meaningful estate and legacy gift opportunities.
FAQs
How do I make my gift?
The quickest way is to make a gift securely online. If you are giving by mail, please be sure to write the check out to "Marklund" and mail to 1S450 Wyatt Drive, Geneva, IL, 60134.
What is a Matching Gift?
Corporate Matching Gifts are offered by some employers – you may be able to double or even triple your gift to Marklund! Contact your Human Resources office
to see if your employer matches gifts.
Will my gift be eligible for tax deduction?
Yes. Official receipts of acknowledgement will be issued.
What does my gift fund?
Gifts to Marklund support the Marklund Annual Fund. These unrestricted dollars allow Marklund to meet the organization's most current and/or urgent needs and are critical to maintaining the exceptional care and programs Marklund is able to provide each and every day. The annual short-fall is $15,290 per resident, per year – Marklund serves 178 residents annually.
Can I designate my gift to a specific program at Marklund?
You can designate your gift to a specific program or general operations at Marklund Philip Center in Bloomingdale, IL, Marklund Wasmond Center in Elgin, IL, or Marklund Hyde Center in Geneva, IL.
How can you start your recurring monthly donation?
Visit our Monthly Giving Page. We will automatically charge your card on the date you select – the 1st or the 15th of each month.
What are the different ways to give to Marklund?
Click here for more information Ways to Give.