Thursday, December 27, 2012|
Serving the Tri-Cities and Kaneland
Volunteers share a Christmas Eve tradition with Marklund residents
By NICOLE WESKERNA – nweskerna@shawmedia.com
Created: Tuesday, December 25, 2012 5:30 a.m. CST
Updated: Tuesday, December 25, 2012 11:29 a.m. CST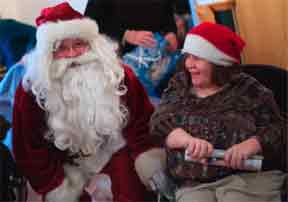 Jeanette A. smiles with Santa Claus at Marklund at Mill Creek in Geneva. Clients of Marklund opened presents with family and volunteers on the morning of Christmas Eve. (Rena Naltsas – For the Kane County Chronicle)
Marklund Celebrates Christmas
More than 200 volunteers helped residents at Marklund – a center in Geneva for adults and children with developmental disabilities – open gifts on Christmas Eve.
GENEVA – For the last 11 years, Colleen McCauley has spent the morning of Christmas Eve at Marklund in Geneva, helping residents open gifts donated by area churches, individuals and businesses.
It was a tradition that started shortly after McCauley's daughter died from brain cancer in 2001. She had donated a custom wheelchair and walker to Marklund, a center for disabled children and adults, and one resident there suggested that she choose a name from the facility's gift tree.
She took that resident's advice and now returns to Marklund year after year on Christmas Eve.
This year, she and about 20 coworkers from Screws Industries in Glendale Heights bought presents for 80 Marklund residents. They also purchased gifts for staff members.
"To us, it's Christmas," she said. "Seeing the kids appreciate it more than anything – that's the meaning of Christmas, just to give."
Cathy Nikrandt, volunteer coordinator at Marklund, said 215 volunteers were expected to help 96 residents open gifts this year. She said volunteers have been dedicating part of their Christmas Eve to assist residents with opening gifts since Marklund opened more than 50 years ago.
This year, Boy Scout Troop 43, the Rotary Club of Batavia and a Wheaton Warrenville South High School leadership group were among the organizations whose members helped out Monday.
Members of the Simmons family in Elburn said this was the first year they volunteered, adding they hoped to make it a Christmas Eve tradition. Robert and Jennifer Simmons brought along their children, Sam, 11, and Rob, 14. Jennifer Simmons said her family has been involved in volunteering at Marklund in the past, and she wanted her family to gain a new perspective.
"Christmas is kind of chaotic," she said. "We figured serving would put our minds back to where they ought to be."
Though it was the first time Rob Simmons has been involved in gift-opening at Marklund, he said he had an idea of how much it meant to the residents. He said he donated a book to a resident two years ago, and that resident still remembers him and the gift to this day.
"It really means a lot to know that someone cares about them," Rob Simmons said.
Marklund spokeswoman Dawn Lassiter-Brueske said the volunteer efforts of those who helped out Monday furthered Marklund's mission to make everyday life possible for individuals with profound disabilities.
"Even if five people are helping one person, you are helping them feel like part of a loving unit," she said before volunteers headed to the residents' rooms.
Many Marklund residents gathered in a common area to open gifts together. Sharon Huisman of Ingleside helped her son, Richard, open gifts with other residents. She has spent Christmas Eve at Marklund for the last three years, and she said donors have always been very generous.
"It's great to see the outpouring of love people have," she said. "I couldn't express how grateful I am for the volunteers' time and their outpouring of love."
Almost 40 volunteers from the J. Kyle Braid Foundation leadership program at Wheaton Warrenville South High School helped Monday. Dan Vitale of Wheaton graduated last year but decided to return again as a volunteer this year. He said the leadership group does a lot of volunteer work, but Marklund has become the group's favorite because he said it feels like a tight-knit family.
"It just shows that people outside of this place care about [the residents]," he said. "We want to support them in any way possible."