Volunteer Recognition Awards
Trish Conroy has been a familiar face on the Marklund at Mill Creek campus for several years. She helps take Marklund clients on outings, works with them on classroom activities, assists them during music therapy and baseball games, and takes clerical tasks offsite to complete at home. She even served on the board of directors several years ago. This past year, she increased her volunteering by arranging a special pet therapy visit with mini horses and worked long and hard in support of Marklund's inaugural 5K event.
Having such an impressive lineup of volunteer efforts, longtime Marklund volunteer Trish Conroy of Geneva received Marklund's 2013 Volunteer of the Year Award this spring at Marklund's annual Volunteer Recognition Event. (Pictured at right, Trish and her husband, Bo)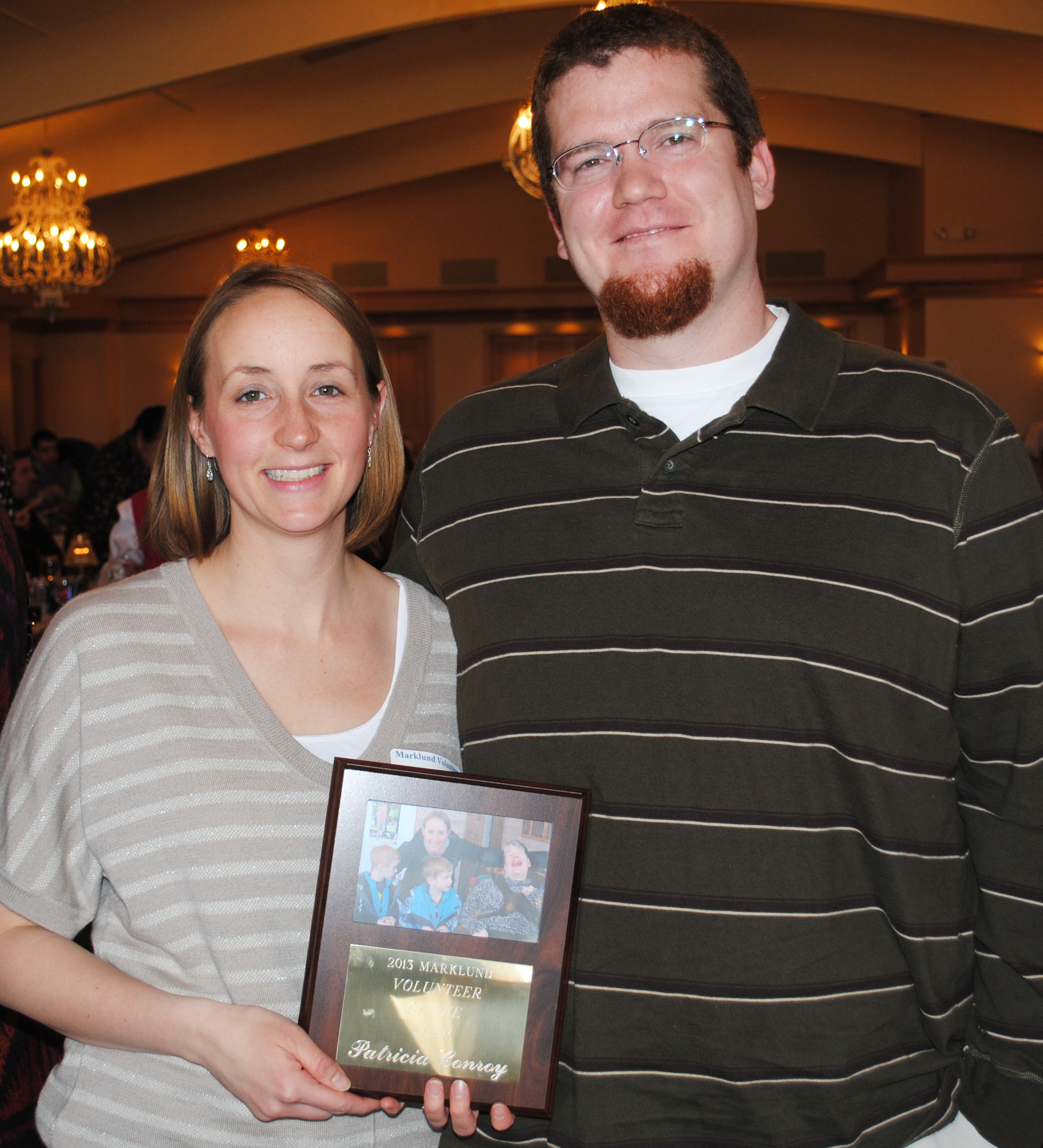 "Trish has been such a wonderful supporter of Marklund for nearly eight years, not long after we opened our Geneva campus close to her neighborhood," said Volunteer Manager Cathy Nikrandt. "She is truly dedicated to doing whatever she can to support the care of our clients, and is an inspiration to many. We are so lucky to have her as a friend."
"I am so honored to receive this recognition," Conroy said after receiving the award, which came as a surprise to her. "I'm happy to do anything to help at Marklund."
Held in April at St. Andrews Golf and Country Club in West Chicago, the event honored several volunteers who met five-, 10-, 15- and 25-year anniversary milestones as well as those whose dedication earned recognition within special award categories.
Special honors included:
Special Event Partner – HSBC Consumer and Mortgage Lending
Teen Groups of the Year:
Lake Park High School Service in Action for volunteering with clients in
Bloomingdale
Batavia High School Psychology Club for volunteering with clients in Geneva
Corporate Group Volunteer of the Year – Omron
Most Hours Served:
Tom Hahn, 205 hours, Marklund Children's Home
Maria Bonokollie, 174 hours, Marklund Day School
Delores Bettencourt, 1,039 hours, Marklund Resale Store
Evan Clark, 437 hours, Developmental Training Program at Marklund at Mill
Creek campus
Wesley Schmidt, 143 hours, Marklund at Mill Creek Homes
Barbara Rhoads, 339 hours, Administration at Marklund at Mill Creek.